Power Macintosh G4 (Quicksilver)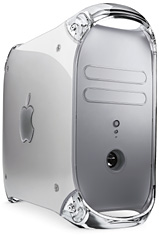 Power Macintosh G4 midi tower

Computer
At Present
At take-over (2004-10-)
Factory configuration
Model
Power Macintosh G4 (Quicksilver) Code name: Titan
Aquisition
October 2004
2002
Introduced: July 2001 (this model: 2001)
Terminated: January 2002
Processor
PowerPC 7450 with a CPU Speed at 733 MHz
PowerPC 7450 with a CPU Speed at 733 MHz
PowerPC 7450 with a CPU Speed at 733 MHz
Motherboard
Power Mac G4 (version = 2.0)
Power Mac G4 (version = 2.0)
Power Mac G4 (version = 2.0)
Bus speed
133 MHz
133 MHz
133 MHz
Random Access Memory
640 MB PC 133 SDRAM
640 MB PC 133 SDRAM
128 MB PC 133 SDRAM
640 MB PC 133 SDRAM

41 GB (38.18 GB [1 K = 1024]) ST340016A (Quantum Fireball?)
81 GB (74.53 GB [1 K = 1024]) ST380021A (Quantum Fireball?)

41 GB (38.18 GB [1 K = 1024]) ST340016A (Quantum Fireball?)
81 GB (74.53 GB [1 K = 1024]) ST380021A (Quantum Fireball?)

40 GB (38.18 GB [1 K = 1024]) ST340016A (Quantum Fireball?)

Total partitions
3
3
1
Optical drive
PIONEER DVD-RW DVR-109 with ATAPI interface
32x/8x/4x CD-RW SONY CRX155E
32x/8x/4x CD-RW SONY CRX155E
Zip drive
(none)
(none)
(none)
ATA bus
ATA-66
ATA-66
ATA-66
PCI card slot 1 (AGP)
NVDA, NVMac GeForce2 MX with 32 MB VRAM, enabling VGA/DVI, ADC. Brochure. Press release
NVDA, NVMac GeForce2 MX with 32 MB VRAM
NVDA, NVMac GeForce2 MX with 32 MB VRAM
PCI card slot
VIA USB 2.0 card with 2 ports (acquired in May 2005). Manufacturer: www.via.com.tw
(none)
(none)
PCI card slot 5
Mia Echo 3410 digital audio card © 2000
Mia Echo 3410 digital audio card © 2000
(none)
Ethernet
10/100/1000Base-T
10/100/1000Base-T
10/100/1000Base-T
Airport
(optional - not used)
(optional - not used)
(optional - not used)
Peripherals
Keyboard
Apple Extended USB Keyboard
Apple Extended USB Keyboard
Apple Extended USB Keyboard
Mouse
Genius NetScroll+ Mini Traveler iRIS (USB) [Resolution: 400 dpi, © 2002 ]
Apple Optical USB Mouse
Apple Optical USB Mouse
Monitor
NeoXeo 17'' LCD Monitor [75 Hz at resolution 1280 x 1024 px]
Videoseven N110S 19"
(none)
Microphone
(none)
(none)
(none)
USB hub

none

(none)
(none)
Scanner
AGFA-Gevaert NV SnapScan Touch
(none)
(none)
Printer
Hewlett Packard Photosmart 3310 All-in-One
(none)
(none)
Router
Netgear 54 Mbps Wireless Router Model WGR614 (conforming with the 802.11g and 802.11b standards)
(none)
(none)
External disk
(none)
(none)
(none)
Modem
Motorola SurfBoard SB4100 Cable Modem (10/100BaseT Ethernet and up to 32 users)
(none)
(none)
Airport
yes
(none)
Software
Operating systems

Partition 1: Mac OS DK-9.2 (Danish 9.2.2)
Partition 2:

Mac OS DK-9.2 (Danish 9.2.2)
Mac OS X 10.3.9 (Panther), in Danish

Partition 3: Mac OS X 10.4.3 (8F46), in Danish

Partition 1:Mac OS DK-9.2 (Danish 9.2.1)
Other partitions:(none)

Mac OS DK-9.2 (Danish 9.2.1)
Mac OS X.1

PC emulators
(none)
(none)
(none)
I used the Titan as my basic computer in replacement of my Power Macintosh 8600 from 1997. It was replaced on August 16, 2007, by an iMac of the summer/autumn 2007 version.
Repairs
From May 13til some time in June 2006, it was on repair in order to install a DVD / CD player & burner. Unfortunately, all computer repairers within 150 km from my home town (Silkeborg, Denmark) pass the Macintoshes on to the same place, to a workshop in Aarhus (at Officeline, an authorized Apple dealer) which is not reknowned for its expedience (or its pricing for that sake). It got back in late June.
Links
www.apple-history.com's gallery about Power Macintosh G4 Quicksilver.