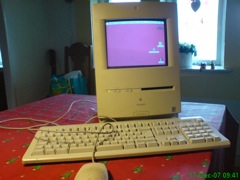 Color Classic
Computer
Present
Original
Model
Macintosh Color Classic (Slice)
Macintosh Color Classic (Slice)
Chassis colour
(original)
Beige
Manufactured
April 1993
Acquisition
1997
1994
Processor
(original)
Motorola MC68030
Motherboard
(original)
Bus Speed
(original)
16 MHz
Random Access Memory
10 MB
10 MB
Hard disk
80 MB SCSI
80 MB SCSI
Total partitions
1
1
CD-ROM drive
none
none
Video
(original)
built-in, featuring 256 colours
Video RAM
(original)
?
Screen
(original)
(original 10" screen, built into the computer), resolution: 8 bit 512x342 px
Networking
Ethernet card
none
none
Modem
none
none
Apple Talk
yes
yes
Peripherals (when used)
Keyboard
Apple Design Keyboard
original
Mouse
Apple Desktop Bus Mouse II
original
Software
Partitions
1 HFS
1 HFS
Operating Systems
System 7.1 DA
System 7.1 DA
Installed Programs (including ISO language code in parenthesis)

Apple Backup (System Software DK-7.1.P5)
Astrix 1.0.1 (en)
Astro-Lo 1.0 (en)
CDU (en)
Claris Works 2.1 (da)
Compact Pro 1.51 (en)
Cosmic Imperative (en)
Fax Controller 1.0.4 (© Smith Micro Software 1994) (en)
HyperCard Player 2.3
Iomega Tools5.3 (en)
Jigsaw Puzzle
KidPix 1.1 (en)
MacAstrologer.sit (en)
Mac Spectacle 1.8.2.dac.sit (en)
Microsoft Word 5 (da)
Norton Utilities 2.0 (en)
SoundEdit 2.0.3 (en)
Tetris Max 2.9 (en)

(unknown)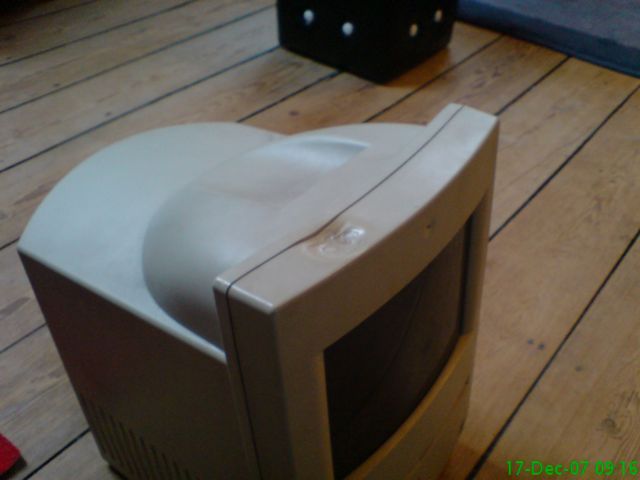 Originally, this was the first computer my wife Lone bought, way before she met me. It was placed close to a halogene lamp that left a mark on the top of the chassis, formed as a 30x30x5 mm encarving.
After we moved together, she was forced to upgrade to my Performa 460, which I had replaced by a Power Book 5300 cs. Then my brother got it as a Christmas present in 1998 or 1999. I got it back, when he inherited my Power Macintosh 8600 a few years later.
Links
LowEnd Mac's Profile: Mac Color Classic