---
Erik Thau-Knudsens virtual genealogy
Navigation 1952
Navigate through my family through the image below. Click the faces for linking.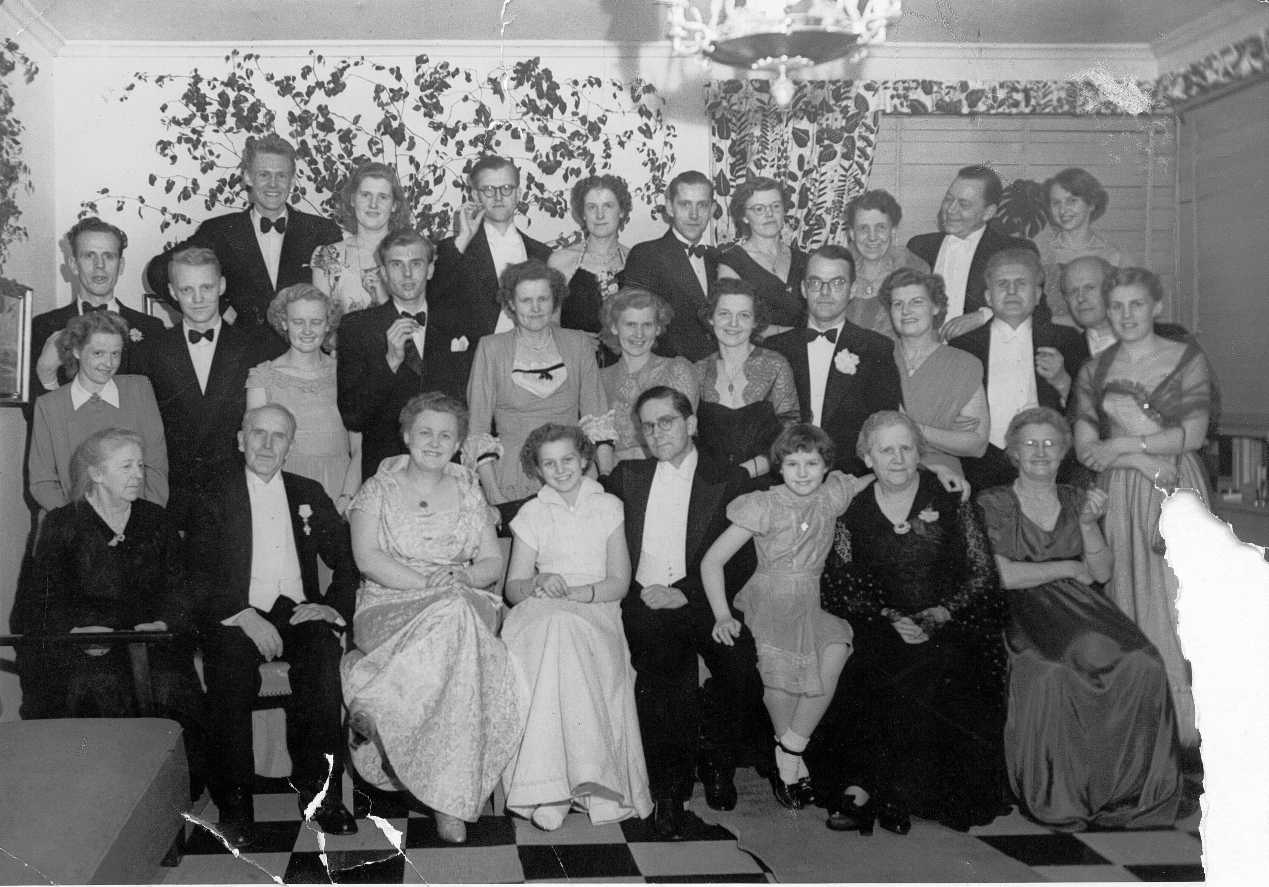 The families Kuld and Thau gathered at Birthe Thau's confirmation in spring 1952. Location: Birthe's home at Blidah Park 40, 1. t.v., 2900 Hellerup, Denmark.
Front row: Karen Thau, Jens Martinsen Thau, Magda Olidia Kuld Thau (born Schandorff), Birthe Thau, Uffe Beiter Thau, Ulla Thau, Christiane Marie Thau (b. Beiter), 'aunt Doris' (sister of 'aunt Anna' and of Ester Lybeck's father), mother of Leif, Borg, Nina, Anne-Birgitte).
Center row: Birthe, Ove (Lull's husband), Lull, consultant doctor Leif, aunt Anna, Nina, Ester Lybeck Sørensen (born Kuld Jensen, married to Max Lybeck Sørensen, married again to Uffe Beiter Thau in 1983), Sigurd Eriksen (married to Aase Thau Eriksen, f. Thau), 'aunt Gitte' (Birgitte Thau, born Hansen, married to Mogens Thau), Fredleif, Max Lybeck Sørensen (married to Ester Lybeck Sørensen), [unknown woman]
Back/top row: [Fredleif's son œ name unknown], Ann Birgitte, High Court judge Borg (Ester's cousin, married to Mitzi, Leif's brother), Aase Thau Eriksen, Olaf Jarl Thau, Mrs. Bodil Thau (born Larsen, married to Olaf Jarl Thau), Gerda (married to Fredleif), Mogens Thau (married to 'aunt Gitte'), Mitzi (married to Borg).
This photo is brought here by the courtesy of Ulla Thau in December 2001. Stamps and notes on the back of the photo:
Charlottenlund Billed-Central, Olaf Poulsensvej 5 - Chrl. Helrup 3328 - Giro 75208.
C. B. C. Arkiv: 1. Dato: 6. IV. 52. Pl. Nr.: 63A
Navigation:
Visual
Textual
2003
Collage from Balder Thau-Moltsen's baptizing

1952
Photo from Birthe Thau's confirmation

List
Total list of all genealogical sheets
About the concept (in Danish

)| Enlargement
---
Erik Thau-Knudsen's pedigree | Home to the web master | Index of pedigree | Contact | Dansk | Back |

This page was written on September 14, 2003
Updated on September 14, 2003